NYC Heating Repair Maintenance Services
There's nothing worse than experiencing a problem with your heating system. Here at 365 KOOL, we can tackle all those issues that come with heating your home. There can be various problems that can occur when it comes to your heating, and choosing the right HVAC company to deal with it is important. 365 Kool strives to be the best in the business, and when it comes to heating repairs across NYC, we've got you covered!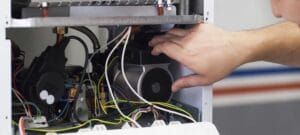 Heater Installation & Maintenance
Our customers will tell you that our HVAC technicians are here to make a difference. With a team of professional technicians who can handle all types of heating and cooling problems, there's nothing we can't fix, maintain, or replace. 365 KOOL provides everything you need and more when it comes to household property problems. If you're struggling with your heater at the moment, there should be a clear reason why. Our technicians will help you get to the bottom of as quickly as possible. The sooner we provide professional heater repairs, the better. It's something we pride ourselves on when it comes to our customer service.
365 KOOL Heating Repair & Maintenance Services
If you've switched on your heater and there's a burning smell, perhaps no heat is being produced at all, or the airflow is weak, then we're able to assist. Your unit might need to be repaired, and it's important to get this resolved sooner rather than later! We service all major brands of heating systems, and we've seen it all before. As a company, we operate 24 hours a day, 365 days a year. Just because it's the middle of the night, doesn't mean your heater issue is going to wait until the morning. If there's a problem with your heating system, you need someone who will be there at all hours. That's why picking 365 KOOL is the most obvious choice to make for any type of emergency HVAC service in New York City.
Our clients rely on our professional services when it comes to heating repairs and other HVAC services. We service a large client base throughout New York, and our highly skilled technicians have all the equipment and knowledge needed to sort out your problems right away.
Professional Heating Repairs & Peace of Mind
Based in New York City, 365 Kool helps residential customers all over the state. We've helped over 100,000 happy customers, who have all given us their seal of approval when it comes to the quality of service. We only hire the very best when it comes to professional technicians, and you'll expect to have your heater repaired and back to full working order in no time at all.
You can trust us to handle anything within your home, and our customers all agree that our honesty is one of the best traits. With over 30 years of experience, this family-owned business has only given the best advice and guidance when it comes to heater repairs and services. We'll ensure that we are doing all we can to keep your home safe, whether that includes repairing or replacing your heater. We'll be sure to tell you what option is best for you.
Why Choose 365 Kool For Heating Repair & Maintenance Services?
Our HVAC company strives to offer the most skilled services available. Not only that, but we've been in the industry for a while, and that means we know our stuff. No matter what challenge you're currently facing with your heater, we've likely seen it before. There's nothing we can't fix, and if we can't fix it, then we'll be sure to replace it with something that's even better for your home or business.
Book Your Heating Repair Service Today
Whether you find yourself stuck with no heating on the weekend or you take an early-morning shower to find no hot water, give us a call. We're available night and day to help you with any of your heater problems. We're dedicated and committed to getting you and your property back on its feet and functioning as normal.
Contact us online to schedule service or give us a call for 24/7 assistance! Whatever the issue may be, make sure you choose 365 Kool when it comes to your heating repair needs.
Get A Quote On Boiler Repair & Maintenance Or New Install